Enter recipe contests, hidden object drawing or other giveaways for a chance to be published in our magazines and win big prizes!
Healthy Your Way Recipe Contest
When you cook well, you feel well. Whatever healthy means to you, send the dishes that do your body—and taste buds—good. Gluten-free? Tell us about the baked goods, pastas and brunches everyone loves. Share your best heart-healthy dishes that keep sodium and fat in check, or show how you cut down on carbs and sugar with your most indulgent diabetic-friendly recipes. We're on the hunt for awesome paleo foods, too. Have a recipe with big flavors and big health benefits? Dish! You could see it here.
Dump Dinners and Desserts Recipe Contest
Busy weeknights (or lazy Sundays) call for simple-prep meals where all the good stuff gets dumped together for an all-in-one dinner that's delicious as it is easy. We want to see dump dishes straight from the slow cooker like pepperoni pizza soup, cheesy-spicy chili mac, and gooey chocolate cherry cake. Or wow us with stovetop sensations like saucy broccoli and beef, creamy potato chowder and bubbly s'mores cobbler. And get that oven going for dump-and-bake dinners like chicken caprese pasta and crispy garlic-butter shrimp or desserts like caramel apple cobbler. If it gets mixed together and comes out like magic, show it off!
Sandwiches, Burger and Sliders Recipe Contest
Are you the burger grillmaster at summer cookouts? The go-to person for party sandwiches? Have you perfected a slow cooker roast beef slider with secret sauce? If you have a hand-held recipe no potluck, tailgate or family reunion can do without (aim for no more than 12 ingredients, please), we want to know about it. Share your twists for black bean beet burgers, taco grilled cheese paninis or portobello and aioli pitas and you could win big! Our paper plates are waiting.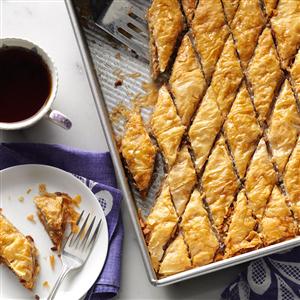 Pan With a Plan Recipe Contest
How do you wow with your favorite pan? We want to see how you sizzle up skillet sensations like shrimp-fried rice, lemony chicken linguine with asparagus and Baja beef burrito bowls. Or pull out that sheet pan to make chicken and wild rice strudels, pan-roasted pork chops with potatoes and baked meatballs with crispy curried chickpeas. Muffin-tin meals, too, please, like, pepperoni pizza puffs, mini tamale pies and chocolate-chip pancake poppers. If you've got a pan with a plan, send us your favorite main-dish recipe that makes it your go-to cooking companion.