Calgary Stampede Ribs Recipe
"More, please!" is what I hear when I serve these zippy, finger-licking ribs to family or guests. The first time my husband and I tried them, we pronounced them "the best ever." The recipe has its roots in the Calgary Stampede, an annual Western and agricultural fair and exhibition in our province. —Marian Misik, Sherwood Park, Alberta
TOTAL TIME:

Prep: 2-1/4 hours + marinating Grill: 15 min.
YIELD:
8 servings
Ingredients
4 pounds pork baby back ribs, cut into serving-size pieces

3 garlic cloves, minced

1 tablespoon sugar

2 teaspoons salt

1 tablespoon paprika

2 teaspoons ground cumin

2 teaspoons chili powder

2 teaspoons pepper

BARBECUE SAUCE:

2 tablespoons butter

1 small onion, finely chopped

1 cup ketchup

1/4 cup packed brown sugar

3 tablespoons lemon juice

3 tablespoons Worcestershire sauce

2 tablespoons cider vinegar

1-1/2 teaspoons ground mustard

1 teaspoon celery seed

1/8 teaspoon cayenne pepper
Directions
1.

Preheat oven to 325°. Rub ribs with garlic; place in a roasting pan. Bake, covered, until tender, about 2 hours.

2.

Mix sugar, salt and spices; sprinkle over ribs. Remove from pan; cool slightly. Refrigerate, covered, 8 hours or overnight.

3.

In a small saucepan, heat butter over medium heat; saute onion until tender. Stir in remaining ingredients; bring to a boil. Reduce heat; cook, uncovered, until thickened, about 10 minutes, stirring frequently.

4. Brush ribs with some of the sauce. Grill, covered, over medium heat until heated through, 12-15 minutes, turning and brushing occasionally with additional sauce. Serve with remaining sauce.

Yield:

8 servings.
Nutritional Facts
1 serving: 394 calories, 24g fat (9g saturated fat), 89mg cholesterol, 1170mg sodium, 21g carbohydrate (18g sugars, 1g fiber), 23g protein.
Reviews for Calgary Stampede Ribs
Average Rating
"Absolutely the best rib recipe ever that ALWAYS turns out! A bit of work <starting the day before> but well worth it! Personally use minced garlic from the jar which is much easier to rub on for the initial bake. Caution with the cayenne pepper also - stick to the suggested amount! Have also tried side ribs which were equally enjoyable! As with back ribs stripping the back membrane off the bone side helps immeasurably with the final product!"
"Baked in slow cooker on low for 7 hrs. Used baby back ribs. Cooled and applied the rub and placed it n the fridge overnight. Basted with BBQ sauce which was fantastic, and baked for 30 minutes turning and basting ribs with more BBQ ever 10 min or so"
"My family says these are the best ribs they've ever had. The sauce is amazing! They've asked for this to become our regular rib recipe."
"Used this recipe on venison ribs and it turned out great!"
"TOTALLY AWESOME!!! CAN'T GO WRONG WITH THIS RECIPE!!"
"Amazing!!! Incredible!!! I impressed myself with these fantastic ribs. I made them exactly as the recipe stated. My husband loved these. I will definitely be making these again!!"
"I served these ribs twice in the past 3 weeks and got rave reviews both times! I love that you can cook them ahead and then let the rub to sit overnight. This makes the actual serving part very simple- just a few minutes on the grill. The recipe only calls for 1/8 tsp cayenne so we did not find it overpowering. The folks I served these too thought the sauce made the ribs. I was a fan myself and will definitely keep this as my go-to rib recipe."
"I thought the rub had too much cayenne in it, and I didn't even use the full amount. The sauce was OK by itself, but even that had cayenne in it, which added to the overkill. The cooking method was successful, yielding tender, juicy ribs. The two-step, overnight, method made it easy to enjoy ribs on a weeknight after work. I will cook my ribs this way again, but will use a different rub next time, and probably a different homemade sauce."
"I use Chopped (jar) Garlic to rub them with. I keep excess Rib Rub in the freezer: to use on the next batch of C.S.R. A friend prefers much more Cayenne Pepper (uses 5 shakes): same friend uses a bag to apply Rib Rub (similarly to Shake-n-bake): I find that too spicy, so I stick to the recipe. Excellent Recipe"
"This is my very favourite Rib recipe. I never used to even think much about pork Ribs: after finding this recipe, now I look for Rib Sales."
"I made a few slight modifications to suite my taste, such as eliminating the pepper and cayenne pepper because I don't like pepper. Even with these changes, the ribs went over well and everyone really enjoyed them! This recipe is a success and is a keeper!"
"I have made these delicious ribs a few times. They are a little bit time-consuming but so worth it. Everyone raves about them. I normally grill them but I am going to try the slow cooker."
"This was a very easy recipe. The ribs were so delicious. Great sauce! Will definitely make again."
"I have never made ribs in my life. I was nervous about trying this recipe but it was a great success. My family of 5 said this was the best meal I have ever made and want it every night! Even my 6 year old agreed...."
"Good ribs, but the rub had too much chili powder for my liking. Also, I'm not a big fan of the celery seed in the sauce. They were very tender though."
"The BEST ribs EVER!! We love these!"
"Wow!!! Absolutely delicious. I didn't think my regular rib recipe could be beat but it has!"
"Tried this and it was mouth watering. Meat was tender and fell of the bones. Not even going to share these with anyone this time. Have enough for our dinner tomorrow."
"i would use the stated seasonings listed and I will definatly be making this"
"Our son made them for July 4th...he cut them individually..great idea. he also used the jar of minced garlic, so easy. he drained the baked ribs and put them in the fridge awhile before doing the rub. It worked. The guests "stampeded" back for more! Bravo bravo to a fabulous dining experience!"
"I tried this recipe out when visiting my mom and she insisted that I leave her the recipe for the bbq sauce. I did add a 1/4 cup of honey to the sauce also."
"These ribs never fail. If I'm running low on time I skip the sauce and use store bought. Always a hit, moist and delicious!"
"Unless I am missing something here, two out of the three reviews said they didn't know what to use for the rub? If you go back and read the recipe, the "ingredients" are the seasonings you use. :)"
"I always return to this recipe when I want something delicious to please a crowd."
"No ingredients for rub listed, so can't make the first time. Would love to try them."
"I will make it the first time if i could find what seasonings to be used. Help"
"Our family enjoyed them very much; we will make them again!"
"These are great for a party. They're always a success."
"Amazing taste. Use the grill the first time... going to try the slow cooker next time. Can't wait!"
"I made these accordingly BUT instead of grilling put them in the slow cooker for 6 hours on low. My fiance nearly ate the whole rack of ribs! They were fall off the bone and he said it was the best ribs he ever had in his life :)"
"Excellent ribs, we've been using this recipe for years. The only change I made was to add A LOT more garlic b/c we love it! Place the ribs meat side down on a parchment lined cookie sheet so they don't stick. Any excess rub is kept in the fridge and used on pork chops, chicken and more ribs, of course!"
"I have made these twice and have gotten tons of praise from my guests. I never seem to make enough of them! Many people have told me that these are the best ribs they have ever tasted."
"I made these ribs exactly as the recipe showed and they were absolutely wonderful. We will definitely make these again"
"I made these for fourth of July and they were a huge hit with my grandmother, who is a wonderful cook herself. I will be keeping this recipe on hand for sure!"
"We had guest for dinner and everyone LOVED this recipe! I will certainly make them again!"
"Very, very good! Next time I will rub only a portion of the seasonings over the ribs and keep the excess in a jar for the next time--and there will be a next time!"
"This is my only rib recipe now. The rub is a must as is the homemade sauce."
"Great recipe. I have been searching for the 'right' rib recipe. I have found it so I can stop now!"
"Tried these ribs on the 4th everyone loved them even my daughter who says she doesn't like ribs said they were good, thanks for the great recipe will be using this even if it isn't a holiday."
"These ribs are great! I thought that I had lost this recipe and I almost started to sweat; I knew my family wouldn't forgive me. Try them-you'll love 'em."
"These are the best ribs my family and I have ever had! Everyone requests them now! Thanks for an excellent recipe!"
"[quote user="Recipe-Bot"]"More, please!"[/quote]
Thank you very much, they sound wonderful. Just happen to have back ribs in the freezer.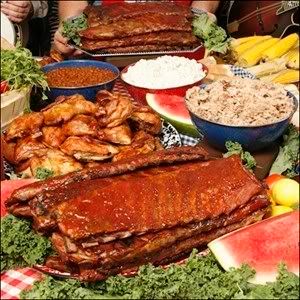 "
© 2017 RDA Enthusiast Brands, LLC