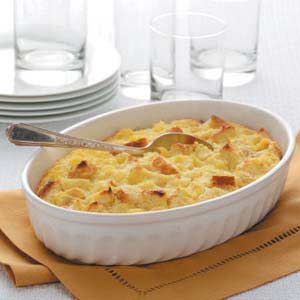 Just in time for Easter Sunday, Sandy M. sends Pineapple Casserole. "It is a wonderful side dish with ham," she notes. "I hope you can come up with a lighter version."
No problem! The bubbling casserole was so buttery and sweet, that our Test Kitchen staff reduced the butter by two-thirds and cut the sugar in half. Thankfully, these changes didn't affect the flavor of Sandy's specialty.
Because two of the whole eggs were substituted with egg whites, the dish lost a bit of its thick, creamy quality. As such, a few tablespoons of flour were added to the recipe and the texture was restored.
Boasting 106 fewer calories and almost 60% less fat, Makeover Pineapple Casserole is a smart addition to any Easter lineup. Try it yourself and see how quickly it becomes a spring staple in your home.
© 2018 RDA Enthusiast Brands, LLC