Watermelon Bombe Recipe
Says Mary Ann Dell of Phoenixville, Pennsylvania: "I can't count the times I've made this wonderful dessert. It's a favorite at our summer barbecues. People think you really fussed, but it couldn't be easier—and there are never any leftovers!"
TOTAL TIME:

Prep: 25 min. + freezing
YIELD:
8 servings
Ingredients
1 pint pistachio ice cream, softened

6 drops green food coloring

1 pint vanilla ice cream, softened

1 pint strawberry ice cream, softened

6 drops red food coloring

1/2 cup miniature semisweet chocolate chips
Directions
1.

Line a 2-qt. freezer-safe bowl with plastic wrap. Place in the freezer for 30 minutes. In a small bowl, combine pistachio ice cream and green food coloring. Quickly spread pistachio ice cream over the bottom and up the sides to within 1/2 in. of the top of bowl. Freeze for 1 hour or until firm. Repeat with vanilla ice cream. Freeze for 2 hours or until firm.

2.

In a small bowl, combine strawberry ice cream and red food coloring; stir in chocolate chips. Spoon into ice cream shell. Cover and freeze overnight.

3. Remove from the freezer and invert onto a serving plate. Remove bowl and plastic wrap. Cut into wedges.

Yield:

8 servings.
Nutritional Facts
1 slice: 321 calories, 19g fat (12g saturated fat), 59mg cholesterol, 110mg sodium, 34g carbohydrate (21g sugars, 1g fiber), 6g protein.
Reviews for Watermelon Bombe
MY REVIEW
"My ice cream fanatics love this. We don't care for pistachio so use T. H. mint choc chip for the bottom layer. It's alreaqdy green. Raves all the time."
MY REVIEW
"My version
I scoop out all the watermelon, drain the rind, freeze, then fill with 2 half gal. of raspberry sherbet.smooth top, I then put
chocolate
chips around the perimeter to act like seeds. Freeze well Pictured is the same thing but in my watermelon ceramic dish.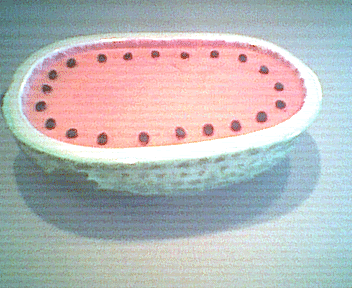 Linda "
MY REVIEW
"Instead of using ice cream we use sherbert's and then add minature chocolate chips in the strawberry sherbert"
MY REVIEW
"This was so fun! I didn't have pistachio on hand, but substituted vanilla in it's place. The children were wowed with it's eye appeal and just as equal with the taste. The grown ups can't wait to try it again with the pistachio flavor included."
© 2017 RDA Enthusiast Brands, LLC