Toasted Butter Pecan Cake Recipe
If you like butter pecan ice cream, you'll love this cake. Loads of nuts are folded into the batter, and more are sprinkled over the delectable frosting. —Phyllis Edwards, Fort Valley, Georgia
TOTAL TIME:

Prep: 25 min. Bake: 25 min. + cooling
YIELD:
12-16 servings
Ingredients
2 tablespoons plus 1 cup softened butter, divided

2-2/3 cups chopped pecans

2 cups granulated sugar

4 large eggs

2 teaspoons vanilla extract

3 cups all-purpose flour

2 teaspoons baking powder

1/2 teaspoon salt

1 cup 2% milk

FROSTING:

11 ounces cream cheese, softened

2/3 cup butter, softened

6-1/2 cups confectioners' sugar

1-1/2 teaspoons vanilla extract

1 to 2 tablespoons 2% milk
Directions
1.

Preheat oven to 350°. In a small heavy skillet, heat 2 tablespoons butter over medium heat. Add pecans; cook until toasted, about 4 minutes. Cool.

2.

Cream sugar and remaining butter until light and fluffy. Add eggs, one at a time, beating well after each addition. Beat in vanilla. Combine flour, baking powder and salt; add to creamed mixture alternately with milk. Beat just until combined. Fold in 2 cups pecans, reserving remainder.

3.

Spread batter evenly into three greased and waxed paper-lined 9-in. round pans. Bake until a toothpick inserted in center comes out clean, 25-30 minutes. Cool 10 minutes before removing from pans to wire racks to cool completely.

4. For frosting, beat cream cheese, butter, confectioners' sugar and vanilla until smooth. Beat in enough milk to achieve spreading consistency. Spread frosting between layers and over top and sides of cake. Sprinkle with remaining pecans. Refrigerate.

Yield:

12-16 servings.
Nutritional Facts
1 slice: 786 calories, 43g fat (19g saturated fat), 130mg cholesterol, 351mg sodium, 96g carbohydrate (72g sugars, 3g fiber), 8g protein.
Reviews for Toasted Butter Pecan Cake
MY REVIEW
"This is now one of my favorite Cakes & will be my go to one, I made it for our Church Social & it was a huge hit. I did alter the recipe a bit. I used 4 cake pans & cut them into & made a 8 Layer Cake, I roasted 4 cups of Pecans in 4 Tablespoons of Butter, I put 2 cups in the Batter as per directions & 2 cups Mixed in the Icing, I used 2 Packages of Cream Cheese & 2 Sticks Butter, 7 cups of Sifted Confectioners' Sugar, 2. Teaspoons Vanilla Extract, 3 Tablespoons 2% Milk. I had several people ask for the recipe..."
MY REVIEW
"Delicious and moist cake with killer frosting!"
MY REVIEW
"I have a question, do you sifted the flour before adding additional dry ingredients?"
MY REVIEW
"I've made this without the pecans many times. I need to try it this way!"
MY REVIEW
"I don't often take the time to write reviews, but this one deserves compliments. It is one of my families favorite desserts and I save it for special occasions, Easter, for instance, because I don't want them to get too used to it...that's how good it is. Really truly delicious, the frosting pairs perfectly with the rich, moist cake. I can't say enough good things about it: Try it, you won't regret it!"
MY REVIEW
"This was a delicious cake! It was a nice change from the usual desserts I make when company comes around. This cake feeds many! And, for those of you concerned about the calories, I was too. But, I cut my cake into 20 pieces! That lowered the calorie count down to 471 calories, which is still a lot. This is a sometimes-cake as I like to call it! :) Delicious!"
MY REVIEW
"Awesome cake..I exchanged the pecans with Black Waluts..Awesome!!!"
MY REVIEW
"Totally awesome cake!!!"
MY REVIEW
"I have made this several times. The first time was for a bake sale and it was among the first to go. It is always complimented."
MY REVIEW
"Favorite cake yet. Love the cream cheese frosting. I recommend trying to avoid putting in the nuts that become finely crushed, they make the cake look dirty."
MY REVIEW
"Just looking at the picture makes my mouth water! The texture is perfect if you don't beat too much air into the batter, like the recipe tells you not to (ei:beat just until combined). I toasted double the amount of pecans and froze half for the next cake-they were just as delicious as if they'd been fresh-roasted. This is one cake I could easily consume all by myself (but won't - I'm pretty good at sharing)! I bake wedding cakes as gifts for friends and family and this cake is going to be the next one I do. Thank you, Phyllis Edwards, for sharing your wonderful recipe with us! Yolbolson-lp"
MY REVIEW
"I made this cake for my Mom 3 years ago, Everytime someones birthday comes up they say, "can you ask Heather to make that amazing cake" .... and I do, everyone absolutely loves it!!"
MY REVIEW
"I've made this recipe about a dozen times. My husband requests it regularly and says it tastes even better than Butter Pecan Ice Cream. I also use the Cream Cheese Frosting Recipe as my ONLY recipe for frosting now. It has been it hit everywhere I've gone with this cake!"
MY REVIEW
"I loved this recipe. My husband, who doesn't normally like cake polished off the rest of it (about 1/3). The toasted pecans add a lot of flavor. It isn't too sweet and is very delicious!"
MY REVIEW
"Made this for my husband's 27th birthday. We loved it!
~ Theresa"
MY REVIEW
"This cake was wonderful. Though it was a bit rich, it is moist and fluffy, and airy, and pretty simple to make! If you like butter pecan ice cream, then you will definitely like this!"
MY REVIEW
"I cooked this cake for dinner at work. It was a big hit. Very moist and love all the icing. I will pick on top of my list. This ia a wonderful recipe."
MY REVIEW
"I think this cake is unique in flavor and absolutely delicious. I am making if for a bake sale this weekend, and know it will be a hit! I love Taste of Home Recipes! They have made me a much better cook! Michelle Rabin"
MY REVIEW
"This cake is moist, rich and delicious. Great cake to entertain guests. Thanks for sharing. I will make this again."
MY REVIEW
"This cake is very good, but the recipe makes way too much frosting. And the calorie count is outrageous!"
MY REVIEW
"This cake was soo good. It turned out very good."
MY REVIEW
"I made this for Christmas. It was soooo good. The only thing I would do differently is not refridgerate it b/c it dried out a little. And watch the nuts carefully while you toast them b/c they burn easily. This was a great cake and frosting was definetly enough!!!"
MY REVIEW
"I made this cake for my Dad's 80th birthday, which we celebrated at a local restaurant. Everyone loved it, including the restaurant staff and owner. It was requested again for my Mom's 80th with the same results and now I'll be making it again for my Dad. It is absolutely fantastic. I never get to bring any home everyone eats every last crumb."
MY REVIEW
"I made this cake from the recipe in the magazine. I took it to my Mom's house for the holidays. Everyone loved it. There was not a single slice left. The toasted pecans really brought out the flavor. I also added some pecans on the frosting between the layers."
MY REVIEW
"I made this cake following the directions exactly and added a 1/2 tsp of butter flavoring. I also did not use the cream cheese frosting, but replaced it with butter cream. Excellent!"
MY REVIEW
"I made this recipe when 1st came out in magazine. I took it to a tea. It was awesome!!!!Taste-wonderful,picture-wonderful. There was nothing left on plate. People were asking weeks after for recipe."
MY REVIEW
"This is my first time leaving a comment on any recipe. I just hope someone looks at the on-line recipe before they attempt this cake from the magazine. In TOH magazine this is the ingredients:
1 1/4 cups of butter divided.My cake didn't have toasted pecans in batter, because it said in recipe that only 2/3 cup of pecans were toasted not 2 2/3 cups. (I know if you toast nuts it brings out the favor, but that wasn't the way I read the recipe, I even asked my husband and he read it the same).Frosting ingredients stated in magazine 2 packages (8 ounces each cream cheese) on-line it states 2 packages (one 8 ounce & one 3 ounce). In all, my cake was not what I thought it would be.I just wonder was the recipe copied incorrectly in magazine?I hate I wasted so much money on this cake, but it does have a beautiful picture in the mag."
MY REVIEW
"This is one of the yummiest cakes I've ever tasted! Everyone in my family loves it. The frosting is amazing!"
MY REVIEW
"DH loves butter pecan ice cream, and this is his all-time favorite cake. I followed the recipe exactly the first time, but when he asked for it again a few weeks later, I had to modify it. I only used 1 cup of butter total (not to toast the pecans or in the frosting), and I made cream cheese frosting with the 1/3-less fat variety and a bit of confectioner's sugar. He said it tasted the same!"
MY REVIEW
"My husband said it wasn't brownies (his favorite) but he wouldn't hate me if I made it again! In his language I think that means that he likes it! :)"
MY REVIEW
"I tried this shortly after I got my TOH magazine.
I made it for my DM's 81st
birthday
. I got great comments from all- including my 3 older DS's!
It was very rich, not something I would make for "everyday", but definately a keeper recipe! ~Beth~"
MY REVIEW
"Read the above comments (huge cake, a small piece will satisfy) and decided to make cupcakes with it. Perfect when baked for 20 minutes at 350, makes 3 dozen. Family loves them!!"
MY REVIEW
"Here is my version of it: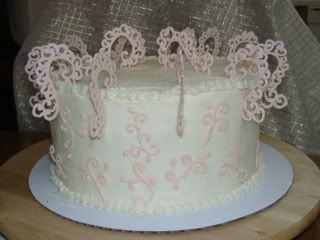 and my recipe:
TOASTED BUTTER PECAN CAKE
1¼ cups butter, softened
2 cups finely-chopped pecans
3 cups sifted all-purpose flour
2 tsp baking powder
½ tsp salt
2 cups white sugar
4 eggs
1¼ cup Pralines & Cream nondairy creamer
1 tbsp vanilla extract
¼ cup oil
Grease and flour the bottoms of two 8" square or round pans. Preheat oven to 325. Melt ¼ cup butter in a heavy skillet over medium-low heat. Add pecans and saute for about 5 minutes, stirring frequently. DO NOT OVERCOOK!
Cream 1 cup butter in large mixing bowl. Gradually add 2 cups white sugar, and cream until light and fluffy with mixer on high speed. Blend in eggs one at a time, beating well on medium speed after each addition. Sift together flour, baking soda, and salt. At low speed, add sifted ingredients alternately with milk and vanilla extract, beginning and ending with dry ingredients. Blend well after each addition. Stir in the toasted pecans. Pour batter into pans. Bake at 325 for about 45 minutes, or until cake is golden brown and springs back when lightly touched in center. (Baking time will vary depending on whether you use convection or thermal).
FROSTING
:
MARSHMALLOW-CREAM CHEESE FROSTING
2 (8-ounce) packages cream cheese, soft
2 sticks butter, softened
1 jar marshmallow crème.
2 lbs. confectioners' sugar
1 tbsp vanilla
2 cups shredded coconut (optional)
2 cups chopped pecans

(optional)
"
MY REVIEW
"This cake was HUGE...and yes, the recipe called for much more icing than the cake needed. If you are a fan of butter pecan ice cream this cake is deliscous. It is very rich and only a small piece will satisfy. I would make this cake again, but not for my small family. It's much better suited for a larger gathering unless you intend you take some to the neighbors like I did!"
MY REVIEW
"I have been baking for years and was excited to try this cake. Unfortunately, something definitely did not taste right. The cake was okay, but the frosting tasted very strange. Plus, there was so much of it - 2 lbs of confectioners' sugar is a lot. Could there have been an error in the directions when they were printed? Or maybe I just had an off day. My apologies if I am off base here. Thank you."
MY REVIEW
"Too sweet and the cake was not moist at all. Sorry!"
© 2016 RDA Enthusiast Brands, LLC